Stabilization is a process to improve the strength and durability of soil.
This can be reached by mixing an appropriate amount of binder agent with the soil.
The ALLU Pressure Feeders are electronically controlled and monitored from the cab of you excavator, with the ALLU-DAC.2 – 3D positioning system, enabling the driver to control the whole stabilization process from his cab.
When the Binder Chamber is empty the driver simply switches to the second chamber and continues on working while the crew refill the empty Binder Chamber.
The ALLU-DAC.2 – 3D positioning system is programmed to deliver the required ratio of Dry Binder eg Cement Lime, Fly Ash, Bentonite etc… or a mix of the above binders to whatever ratio the Engineer requires for each project.
The Grid layout on the screen of the ALLU-DAC.2 – 3D positioning system prevents the driver from getting confused on which areas have already been stabilized and allows for more accurate documentation of what areas have been finished and what areas are left to treat. The ALLU-DAC.2 – 3D positioning system will accurately document every square metre of the project, changing colour on the screen once the required amount of binder has been placed in each square metre. Thus the work done is now properly documented for quality control purposes and provides the facility to transfer data onto other computers, giving Engineers and Consultants documented print outs of all work completed.This ability to provide accurate placement data gives the Engineers and the Contractor doing the stabilization project piece of mind, knowing that the work is getting done accurately and to the Engineers requirements, taking all the guess work out of it.
By stabilizing the area the costs are much lower than the cost of doing the work with the traditional methods like cut and fill with clean clay.
Applications for Soil Stabilization
Stabilization for roads and highways.
Foundations for Industrial buildings and bridges.
Yards, car parks, sports grounds.
Protection of adjacent structures.
Stabilization of very soft soils from tunnel boring.
Roading and railway construction sites.
Foundations for swimming pools, landfill areas etc.
Protection layers under the water.
Noise embankments.
Ground water protection layers.
Slopes of rivers, lakes, roads etc.
Erosion control.
Protection layers for permafrost.
Port extensions.
Airport runway extensions.
Contaminated properties.
Dredging mud/solidification.
Stabilizing ground before trenching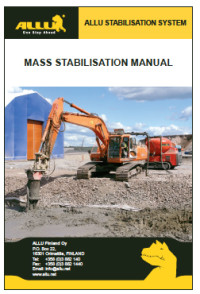 Benefits of Soil Stabilization
Disposal of unsuitable soils is greatly reduced.
Wet site/access conditions can be overcome.
Treated material can be used in cut to fill.
Site traffic and impact on the environment is reduced.
Low operation costs.
A wide variety of strengths are possible.
By-products from industry can be used as raw materials.
Environmentally responsible.